The striking pattern of a clownfish could be a way of advertising its place in the hierarchal pecking order according to new research from the University of Queensland's Queensland Brain Institute (QBI).
Clownfish, or anemonefish, are one of the most recognizable fish species in the world thanks to their colourful orange, black and white markings.
But the significance of how they recognise the marking patterns on each other has largely remained a mystery.
Clownfish markings show submission
A research team led by Dr Fabio Cortesi and Dr Laurie Mitchell discovered the juvenile markings of a certain species of anemonefish incorporated ultraviolet (UV) colouring to display a form of submissiveness.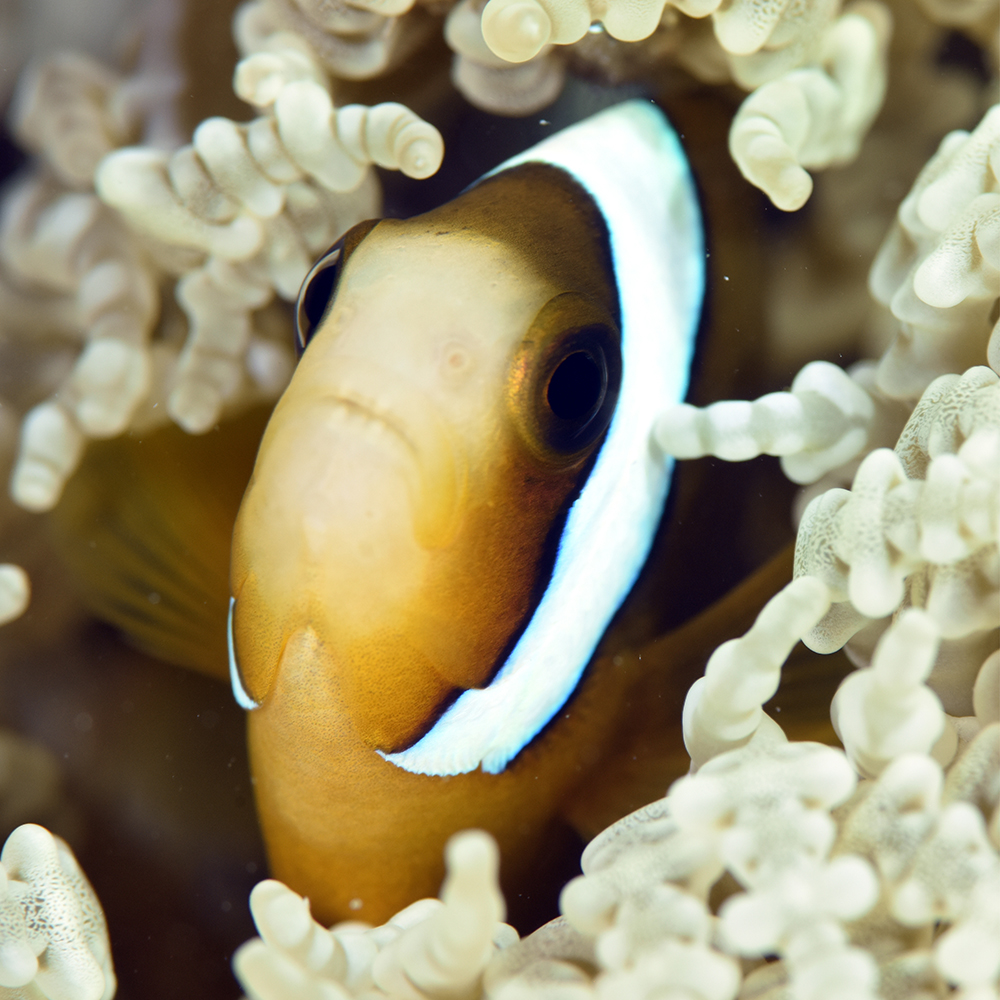 "Anemonefish have UV sensitive vision and are really good at picking out marking differences in UV," lead author Dr Mitchell said.
"And the idea is that these smaller fish have a higher UV signal, in both the orange and white markings, which can communicate this submissiveness.
"And it's quite noticeable when you measure the reflected colour wavelengths of the skin, you can see these differences between juveniles and adults."
As juveniles, these fish have light colouring and look quite striking but as they mature, the lose this brilliance and adopt the adult colouring.
"The idea is that as they age, they start to lose this signalling and become 'UV dark' and that's seen as more dominant," Dr Mitchell said.
UV experiment sparks fish fightclub
To test their theory, the team conducted a series of showdowns between matched and different sized fish using different levels of UV.
When size-matched fish faced-off, the darker UV fish would always win, with the defeated rival showing submissiveness by laying on its side.
However, when an adult was pitted against a juvenile in which the UV conditions would 'turn off' the smaller fish's markings, the adult would persistently, and aggressively, try to attack the juvenile.
"Usually the primary cue for ranking is the size," Dr Cortesi said. "If you have a really big fish, it will always win.
"So automatically when a smaller fish sees a bigger fish it would submit – like waving the UV white flag.
"But then if you made the little one darker, less UV, then the big one would get really, really angry."
UV vision in humans?
Dr Mitchell said this feature would be a useful visual cue in the wild to help juvenile fish secure a strong starting point in their natural home – sea anemones.
"The theory is that the juveniles show submissiveness to adults so they can settle and be granted shelter in anemones," Dr Mitchell said.
"When small fish joins a new group they can avoid the mistake of mis-advertising its place in the hierarchy."
The results also help grow the understanding of our own brain and how evolution shaped our visual system.
"It's thought the ancestral vertebrates, which humans evolved from, incorporated ultraviolet vision," Dr Mitchell said.
"But we evolved means of filtering it out".
"This study adds to the conversation as to how UV sensitive animals perceive their environment, helping us determine how our fishy ancestors may have used UV."
The research was first published in Behavioral Ecology.