A Queensland Brain Institute (QBI) researcher will be working to understand how we can repair and adapt a tiny brain cell to clear Alzheimer's disease after being awarded a coveted fellowship from Dementia Australia.
Dr Liviu Bodea, a postdoctoral fellow in the Götz lab and expert in neuroimmunology, was one of two recipients awarded the Dementia Australia Research Foundation Mid-Career Research Fellowship as part of its 2021 Dementia Grants Program.
Dr Bodea's research will focus on rejuvenating ways to improve the efficiency of the brain cell types known as microglia, the immune cells of the central nervous system which play an important role in brain infections and inflammation.
Microglia help 'prune' brain cells
Recent in vivo imaging studies have revealed that in the resting healthy brain, microglia have beneficial roles that decrease with age and can become toxic for the surrounding cells.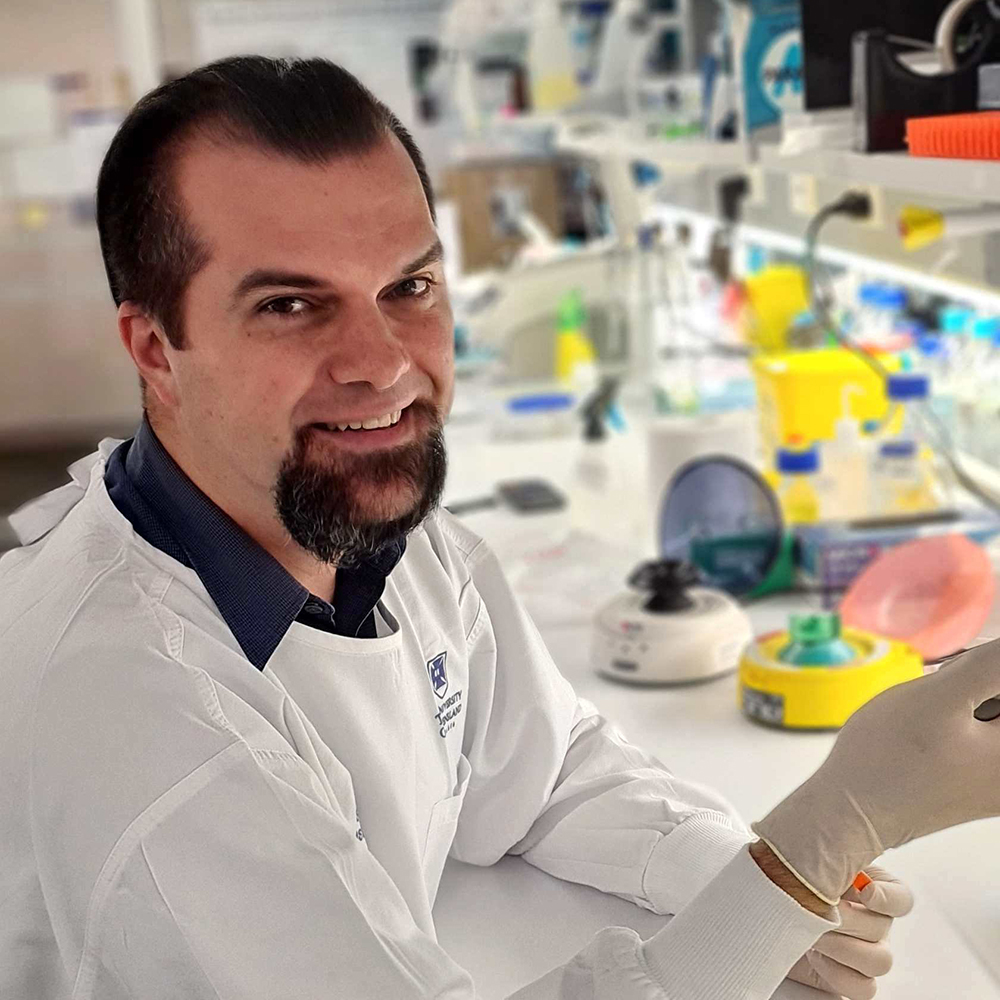 Especially crucial during brain development, microglia work to help neurons grow. Through a procedure called pruning, microglia eat bad connections between neurons, maintaining strong ones while eliminating weaker or unnecessary ones.
"My research will focus on investigating ways to improve the efficiency of the brain cell types known as microglia to clear Alzheimer's disease-specific pathological signs," Dr Bodea said.
"Mice models that are experimentally induced to mimic Alzheimer's disease will be used to identify how microglia shift their roles due to age and Alzheimer's disease.
"The findings will then be validated using brain samples from people with and without Alzheimer's disease.
"In addition, a drug currently tested in other diseases and that can eliminate aged microglia will be repurposed, which will determine if the removal of aged cells improves the Alzheimer's disease pathology."
Drive to discover treatment for dementia
The Romanian-born, Dr Bodea, was awarded the prestigious Peter Hilton Research Fellowship at the Clem Jones Centre for Ageing Dementia Research (CJCADR) in 2014, after receiving his PhD title from the University of Bonn in Germany.
In 2018 he was awarded an NHMRC Project Grant to continue his vital work to assess the role of molecules that play a major part in Alzheimer's and dementia.
Asked about the impact of the research, Dr Bodea said he hoped the results of his research would contribute to new knowledge about how Alzheimer's disease progresses and aid in the development of a potential novel treatment strategy against the disease.
"If you look at the numbers around dementia, they're very frightening and our life expectancy is getting higher, but all these neurodegenerative diseases kick in as we get older," he said.
"This is such an important area of research that should be explored and understood because while we know bits and pieces, the big puzzle is still unclear.
"I hope that I can bring some of the puzzle pieces together in my lifetime. Any little breakthrough is satisfying."